Converting and Material Handling Equipment Manufactured for Success
For more than 30 years, AZTECH Converting Systems has designed and manufactured innovative and invaluable products for the label and converting industry.
Combining reliable, robust and affordable rotary die cutting and finishing systems, slitter rewind inspection systems, and roll handling equipment with prompt, professional customer service and support has always been AZTECH's main goal.
All AZTECH products may be tailored to customer specifications and have the ability to accommodate future expanded capabilities.
Whether your company is small or large, focuses on printing, finishing, inspection or custom converting, AZTECH can manufacture a system for your requirements and your client's needs!
Review the links below to learn more, request a quote to place an order or contact AZTECH Converting Systems for additional information on our converting equipment and material handling equipment.
CONVERTING EQUIPMENT

MATERIAL HANDLING EQUIPMENT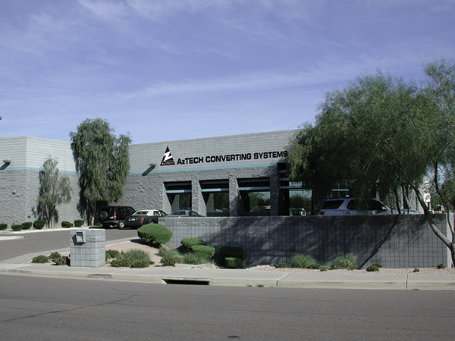 Specializing in Innovative Design and Manufacturing for the Label and Converting Industry for Over 30 Years
Established in 1984, AZTECH Converting Systems quickly identified the Tag & Label Industry's need for affordable user-friendly large diameter, high performance unwind and rewind modules that can more efficiently and productively operate existing equipment.
Our early success led to the design and implementation of an array of additional industry related products such as rugged and versatile roll material lifts, high-speed slitter rewind systems and rotary die cutting and finishing systems.
Click here to learn more about AZTECH Converting Sytems engineering, quality manufacturing, equipment performance, and top of the line customer service and support.