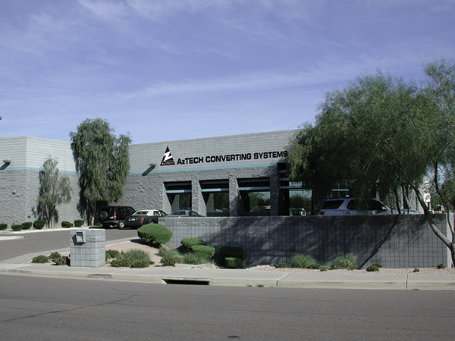 Contacto
Address
AZTECH Converting Systems
212 W. Lodge Dr.
Tempe, AZ 85283

Phone
Toll: (800) 829-8351
(480) 951-8351
Gracias por su interés en AZTECH Converting Systems!

Si tiene un proyecto actual y necesita una propuesta de equipo o una discusión con un representante técnico de ventas, por favor complete el AZTECH Request for Quote formulario o contacte con el apropiado AZTECH asociado de técnico.
Rob Baker- VP Business Development
PRODUCTS: Rotary and Semi-Rotary Die Cutting and Finishing Systems
Slitter Rewind Inspection Systems and Custom Converting Systems
Mobile Phone: (717) 575-3636
Email: rbaker@aztechconverting.com
Mark Struckman- Technical Sales
PRODUCTS: 90 Degree InvertibleTabletop Inspection Systems, Unwind
and Rewind Modules, Mobile Roll Handling Equipment and
Converting Accessories
Phone: (480) 951-8351
Email: mstruckman@aztechconverting.com
Si tiene la necesidad de pedir componentes de reemplazo o requiere servicio o reparación de la máquina, un AZTECH técnico de servicio de máquina está disponible para ayudarlo. Por favor complete el AZTECH Technical Service Request formulario or llamada (800) 829-8351.