Aztech Converting Systems es uno de los principales fabricantes de máquinas de alta calidad como troqueladores rotatorios, inspectores de corte y rebobinado flexo de 10" a 18" y de una amplia variedad de partes y repuestos.
Nuestra serie de troqueladores DM provee soluciones rápidas, eficientes y económicas en el mercado competitivo para las etiquetas en blanco, en papel térmico y como equipo para convertir las bobinas de las Prensas Indigo. Las máquinas vienen equipadas para usos sofisticados como el "re-registro" de las bobinas y están disponibles en una extensa gama, de acuerdo a las necesidades de cliente.
CONVERTING EQUIPMENT

MATERIAL HANDLING EQUIPMENT
La serie Sidewinder de cortadores/rebobinadores, -disponibles con uno o doble rodillo de embobinado para su función- se utilizia con un sistema de control automático y permite el corte y embobinado del substrato standard a altas velocidades. Está equipada con banda de ancho de 10" a 18" y viene disponible en varias opciones...
Es la combinación perfecta entre productividad, bajo costo y confiabilidad.
Nuestra variedad de partes y equipos para manejo de rollos son innovadores y permiten realizar varias tareas con menor esfuerzo, disminuyendo el riezgo de accidentes en el área de trabajo. Se pueden adaptar según la tarea que usted necesite realizar. Estan hechos de hierro robusto, lo que le da mayor rendimiento y durabilidad.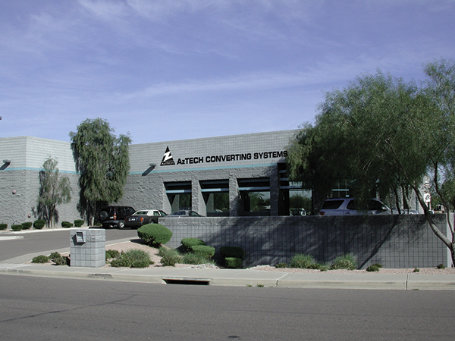 Founded in 1984 as Product Search Inc, a custom Engineering company, AZTECH Converting Systems founder, Franklin Bradshaw quickly identified the Tag & Label Industry's need to provide affordable user-friendly large diameter, enhanced performance unwinding and rewinding modules to more efficiently and productively operate their existing equipment. This early success lead to the design and implementation of an array of additional industry related products such as rugged and versatile roll material lifts, high-speed slitter rewind systems and rotary die cutting and finishing systems.